Welcome to Designing Fairy's Playhouse
Creations by Designing Fairy -- a place of learning, fun and upliftment for kids and their adults. In the Playhouse you can sign up for the featured offerings and join the fun! Current Offerings:

Get Your Joy On Again

and

Be Birdafied

custom birds
Sign up for New Online
Play Class for Adults
Adults: Get Your Joy On Again!
I don't know about you, but the Pandemic, and the election nerves, the news, and being stuck at home has zapped me of joy and fun. I want to feel that joy again. That wonder. That hopeful feeling!
Before the Pandemic hit I was working on my thesis work that involved using Design Thinking to blast through Stuck in the Hole or Negative Thinking through my imaginary mall. What is Stuck in the Hole Thinking? It's that awful place of feeling like you are stuck in a hole, looking up, with no way out and your mind is replaying why it can't work, it can't move, with no solutions. It's a place opposite of hope. During my thesis process, I had a delicious focus group -- kids and adults -- working on the exercises, and they all felt more imaginative, more lively and more hopeful when they were done. They came up with fun solutions and opened up their imaginations.
What if the imaginary mall could be used now to help us with how we feel? Give us a little light into our worlds and feel playful and hopeful again?
​
The Idea Emporium is an imaginary mall that has several whimsical departments that sell items to the magical inhabitants of the world. There's the Bakery, the Fashion department, the Invention Room, the Toy Room, and the Garden department. And the mall needs YOU to help design what sells there. All you will need to visit this online activity book world is doodling or drawing utensils (crayons will do!) and your Imagination.
​
Join my Imaginary Mall for Thanksgiving or Christmas or after holiday malaise and dive into whimsy, joy and fun as we design bouncing cakes, floating cupcakes and broken wings for butterflies, to break through some stuck, heavy energy, and think out of the box again. Sign up for one module or three. Jump into the second module or the first. It's up to you.
​
A Little Different Online Class
I believe online learning doesn't have to be flat and boring. There will be plenty of indulgence into the senses to make your learning come alive. Classes will include an online forum to play with others, Introductory Live Welcomes, weekly exercise worksheets to fill out and play with all week long, short animated videos, and lots of cheerleading from me, all in our own, safe Idea Emporium website.
​
Got grandkids or kids home? This is the perfect class to do together!
Will you join me and the crows, the fairies?
Design donut bikes and alien botany in fun online exercises
Solve FUN design challenges like the Problem With Floating Cupcakes!
Wavy Trees created by students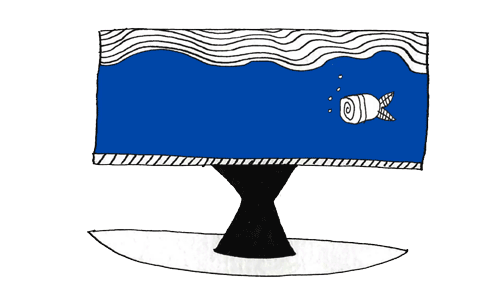 What Students have said about the exercises:
From Module 1:
"My ABSOLUTE favorite thing about your exercises is that you helped me to express a feeling with each attempt, not just draw something so it looked nice." - AG, New Jersey
​
From Module 2:
"My favorite activity was the floating Cupcakes! I loved making the cupcakes! I did stretch my imagination, this project and process helped open myself up to a different way of looking at my world and allowed me to try different techniques and mediums and jump started my creative thinking! - WB, California
​
"It definitely unlocked some imagination that was tucked away in my brain." - SC, New Jersey
​
Wendy Buffo
Shellie Montgomery
Andrea Green
Syllabi For Each Module. Enroll in 1 module or 2:
The Garden Department - Module 1 : Drawing
as a Tool
In the Nursery we learn how to use Line and Drawing for the purpose of communicating our ideas and our feelings through designing what is sold in the department. You do not need to be an expert at drawing by far, but be willing to use your imagination.
• Flying Mushroom Room
• One Liners & Simplicity
• Wild Wavy Trees
• Broken Butterfly wings
• Alien Plant exercises
• Magic Sunflowers
• Nature Joy Reminders
• Design Challenge
• Virtual Field Trip
​
Module 1
November 23 - December 14
4 week filled module for $99.00
Earns one Crow Badge.
​
The Bakery - Module 2
Stretch Your Imagination To What is Possible
In the Bakery we play and see Color and stretch our imaginations further, filling up with whimsy and wonder. We focus on possibilities not on the blocks. We decorate cupcakes, solve bakery challenges, invent donuts and flying cupcakes. You meet the crows and the Fairies that run the Bakery. Can't travel now? Spend the holidays at home designing a magical bakery.
• Reject Cupcakes
• Pie Chart & Color Theory
• Candied Forest Apples
• Bouncing Cakes
• The Soda Fountain
• Donut Fridays
• Mini Challenge
• Chocolate Bunny Design Challenge
• Field Trip
​
Module 2
December 18 - January 8
4 week filled module for $99.00
Earns one Crow Badge.
And

...Just For the Holidays: Be Birdified
I've been drawing birds for my new book and new birds have been emerging every day, each a strong message for myself about my own emotions and true feelings. Friends have been seeing my birds on the pages of Facebook and Pinterest and asking, "Hey, what bird am I? What do I look like?" This got my bird brain thinking, wouldn't it be fun to draw their birds? Combining my strong intuitive abilities with my bird seeing abilities I could offer my friends, fans & family the chance to be "birdified," to give them a little insight into what their inner world looks like now.
​
Offered a limited time only, within two to three weeks you will receive a digital copy of your birdified self to frame or share with others on Social Media. (Sorry, birds, like pets, are non-returnable, even if you initially don't get along with your bird. Please be kind to your bird self. Feed it pellets and avoid popcorn. Maybe provide a nest or a pond.) After buying your bird be sure to share your email address to me so we can discuss your bird beforehand.